As everyone now knows, I've been waiting on pins and needles to hear back from this new job. I filed paperwork during my interview to get a background check done and they told me it would be 4-6 days before I heard anything. Yesterday was the sixth day, and as I hadn't heard anything yet, I decided to give them a call to check on the status of things. No one answered so I left a message and that was that. Today was day seven, and every hour that has passed so far has left me feeling a teensy bit more discouraged. Until about twenty minutes ago, when they finally, FINALLY called and officially offered me the job. I'm so excited. I start orientation on Monday. Squee.
I'm a tad worried about Panera, as I'm also supposed to work there on Monday as well. I've been wanting to put in my two weeks for, well about two weeks now, but I figured it would be really stupid to do that before I was officially offered the new job. I'm going to head over there right now and see if I can figure something out with them.
In all honesty, this has come at a perfect time in terms of quitting Panera. Big drama is brewing there and though it doesn't involve me directly, there have been attempts to drag me into it, specifically by people in management, and it makes me feel uncomfortable. I feel like I'm narrowly escaping some cray cray.
I realize that this new job will have it's drama too, but obviously casino drama will be way more entertaining than bakery drama.
So excited!
Also, check this out. Ricky pointed out this amusing stack of literature on my nightstand this morning. Specifically the first two books.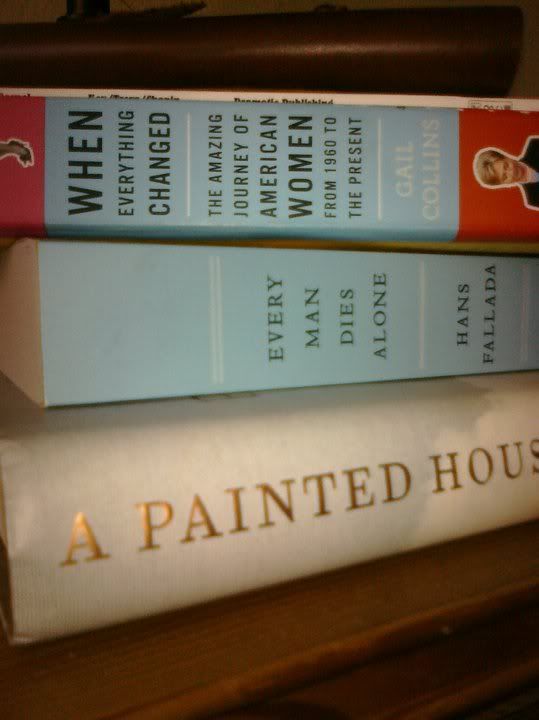 I think it's funny anyways. ;)